Fall in love with Palm Cove
Your serene and sophisticated beachside village.
A unique and relaxing village by the Coral Sea, where centuries-old "paperbark" Melaleuca trees line the casual esplanade, Palm Cove offers a relaxed and sophisticated atmosphere making it the ideal beachside holiday or destination wedding location.
With its underrated style and sophisticated simplicity, Palm Cove is a luxurious location that is spoiled for choice, with many world-class and award-winning resorts, restaurants and spas that span the length of our picturesque beachfront esplanade.
Palm Cove is the ideal hub when planning your Great Barrier Reef trip, rainforest excursion or even a relaxing day on our palm-lined beach enjoying the sun. Our idyllic seaside haven is the perfect romantic paradise and destination wedding location for a relaxed and fun wedding or romantic getaway.
Palm Cove offers numerous outlets for your love of shopping with stylish options for resort wear, fabulous galleries and boutique shops for gifts and holiday essentials. You will also find hair and beauty spas, tour and travel bookings, hire cars and a fabulous range of restaurants, cafes and bars for all tastes and budgets.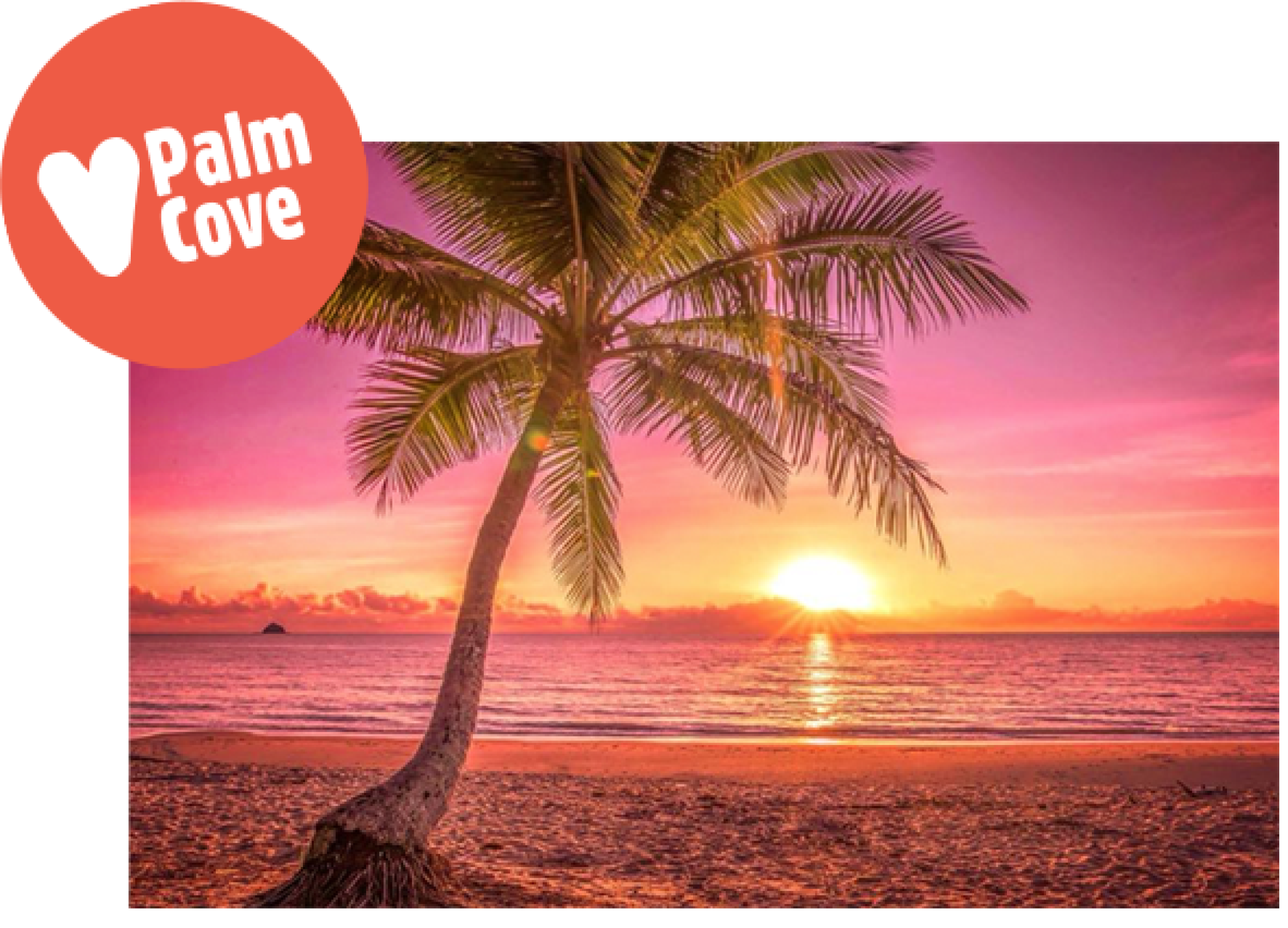 Perfectly situated between Cairns and Port Douglas, Palm Cove is the perfect home base for your holiday, wedding or event or luxury getaway.  A place where you can truly disconnect from the busyness of your everyday life and truly find yourself while soaking up the magical atmosphere.
Regular bus and shuttle services will whisk you to your Great Barrier Reef tour and every attraction this stunning region has to offer.
If you are looking for a holiday that you will never forget, a place where you will be completely relaxed and can be yourself, then Palm Cove is the perfect destination for you.
Your Ultimate Getaway Awaits
Plan your perfect escape in one of Australia's top 3 Tourist Destinations. Palm Cove offers a relaxed and sophisticated holiday. Whether relaxing by your hotel pool, strolling our romantic beaches, dining in our local restaurants or making day trips to the Great Barrier Reef or Daintree Rainforest. We hope to see you soon, for a holiday you'll talk about for a lifetime...